Шаг 3. Привязка кошелька WalletOne
Текстовая инструкция
Все переводы в системе Whole World производятся в автоматическом режиме
через международный платежный сервис Wallet One (Единый кошелек)
Поэтому для того, чтобы иметь возможность отправлять и получать денежные переводы, вам необходимо привязать к своему аккаунту электронный кошелек WalletOne. C этого кошелька Вы будете оказывать помощь, и на него же Вам будут поступать переводы от других участников.
Для создания и привязки кошелека WalletOne к своему аккаунту, используйте форму привязки, расположенную в разделе Привязка кошелька.
Так выглядит форма привязки кошелька: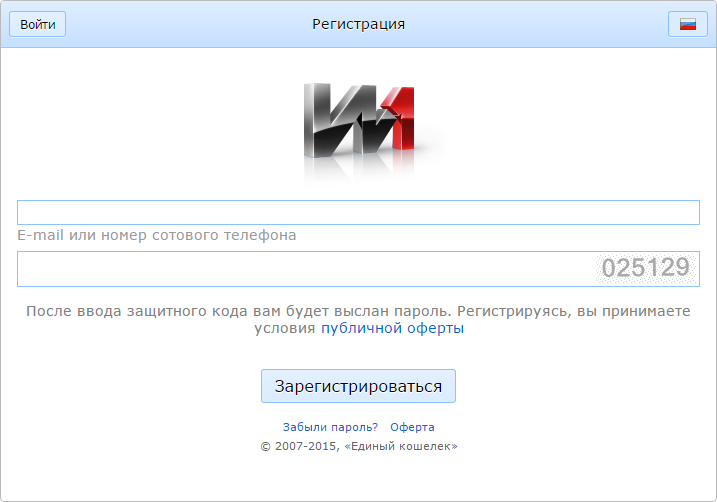 Язык формы определяется автоматически. Если он определился неверно,
Вы можете изменить его самостоятельно в правом верхнем углу формы.
Для этого кликните по флажку и выберите нужный язык:

Если у Вас уже имеется кошелек WalletOne, и Вы хотите привязать его, не создавая новый, нажмите кнопку Войти, и следуйте подсказкам системы.
Однако мы рекомендуем для Вашего же удобства и безопасности использовать для работы с Whole World отдельный счет WalletOne.
Итак, создаем новый кошелек WalletOne (Смотрите рисунок ниже):
Для этого в форме привязки нужно указать свой E-mail или номер мобильного телефона.
Далее введите проверочный код с картинки (в данном примере — 025129)
и нажмите кнопку Зарегистрироваться.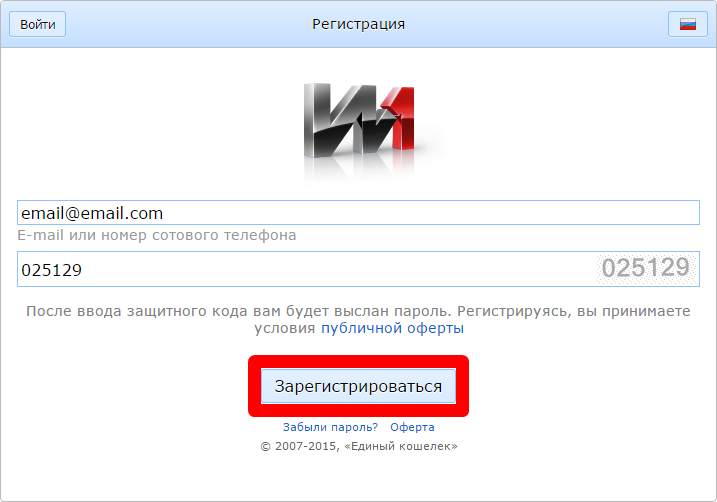 В случае успешной регистрации, на указанный Вами E-mail или номер телефона
будет выслан номер созданного кошелька и пароль для доступа к нему.
Введите полученный пароль в форму привязки и нажмите кнопку Войти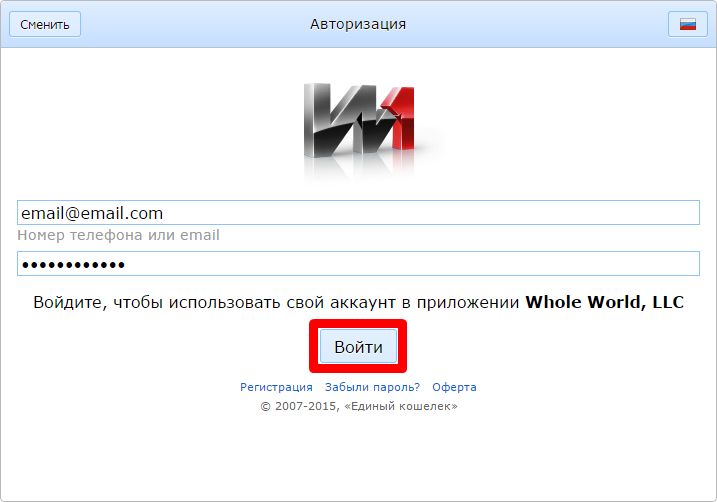 Для завершения привязки разрешите приложению Whole World доступ к следующим функциям:
• запрос информации о состоянии баланса кошелька
• перевод средств по Вашему распоряжению
• выставление счетов от Вашего имени
• просмотр информации о профиле
Для подтверждения разрешения на выполнение операций нажмите кнопку Разрешить.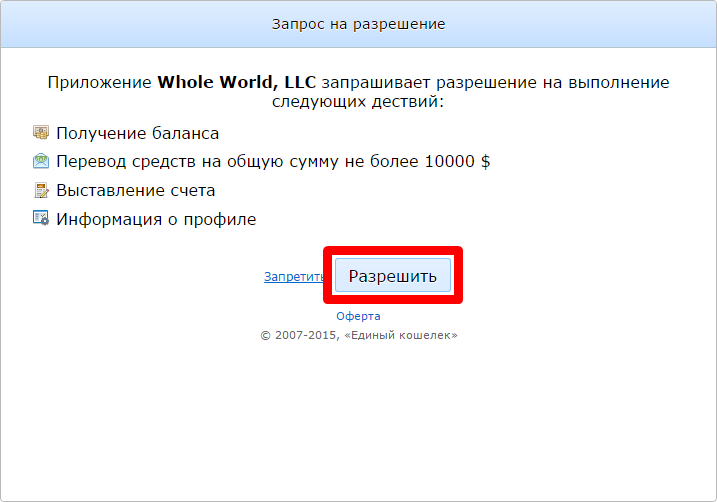 Обратите внимание!
Создавая привязку кошелька, Вы разрешаете Whole World совершить переводы на общую сумму не более $10 000.
Это означает, что при достижении Вами этого лимита, Вам потребуется еще раз произвести привязку кошелька по той же схеме.
В случае успешной привязки система сообщит Вам об этом,
и Вы перейдете к шагу оказания финансовой помощи.
| | |
| --- | --- |
| | Whole World не будет иметь доступа к Вашему паролю от привязанного кошелька WalletOne! Вы вводите свой пароль напрямую в защищенную форму авторизации платежной системы WalletOne (форму привязки) |
Обязательно сохраните (запишите) номер своего кошелька и пароль,
чтобы не потерять их! При необходимости Вы можете изменить пароль от своего кошелька — это не повлияет на его привязку.

Step 3. Linking of WalletOne Purse
  All transfers within the Whole World system are performed automatically through Wallet One, an international payment service.
Therefore, in order to be able to send and receive money, you need to link a WalletOne purse to your account. You will make financial aid payments from this purse and receive money transfers from other participants to the same purse.
Use the linking form that can be found in the Purse Linking section for creation and linking the WalletOne purse.
This is how the form looks like: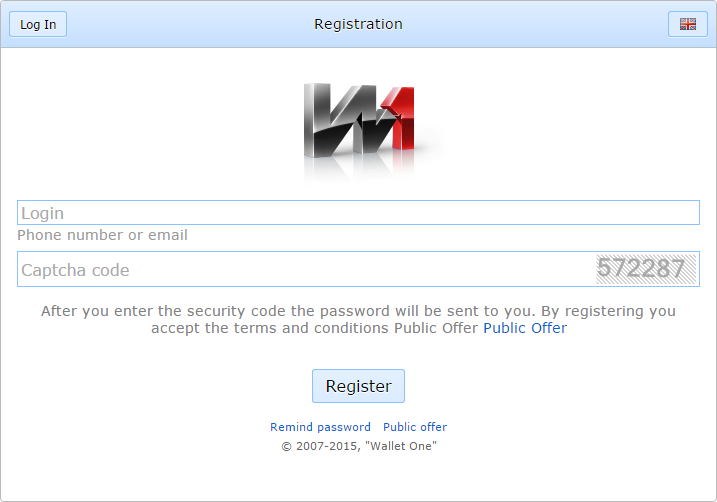 The form language will be determined automatically. If the language is determined incorrectly, you can change it yourself in the top right corner of the form.
To do this, click on the corresponding flag and choose the desired language:

If you already have a WalletOne purse and want to link it without creating a new one, press the Log In button and follow the instructions of the System.
But, for your own convenience and safety, we recommend to use a separate WalletOne account for working with Whole World.
So, let's create a new WalletOne purse (see the picture below):
To do this, specify your E-mail address or cell phone number in the linking form.
Then enter the verification code as it is shown in the picture (572287 in this example) and press the Sign Up button.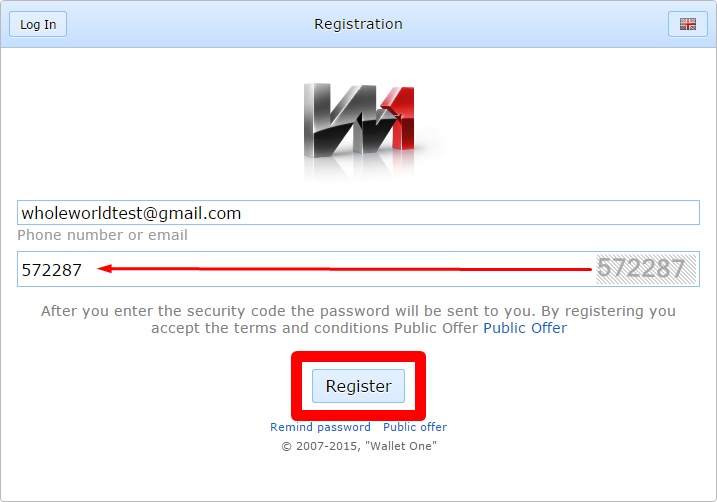 In case of successful registration the number of the created purse and password to it will be sent to the E-mail address or phone number you have specified.
Enter the received password in the linking form and press the Log In button.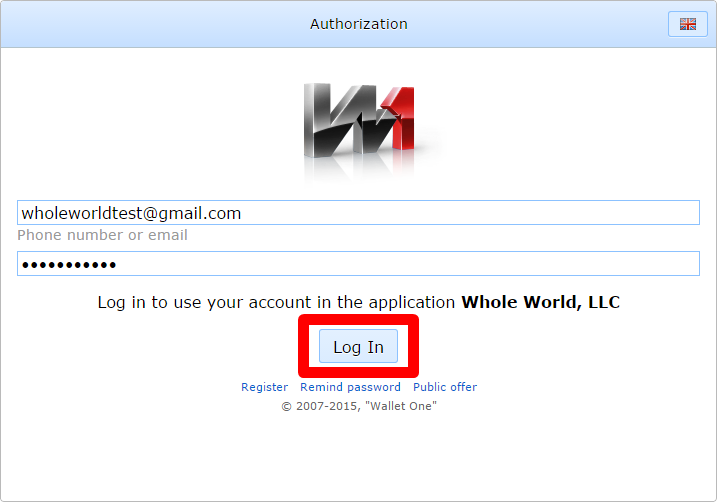 To finish the linking procedure, allow the Whole World application to have access to the following features:
• requesting information about the balance on the purse
• money transfers on your request
• invoicing on your behalf
• viewing profile information
To confirm the permission to perform these operations, press Allow.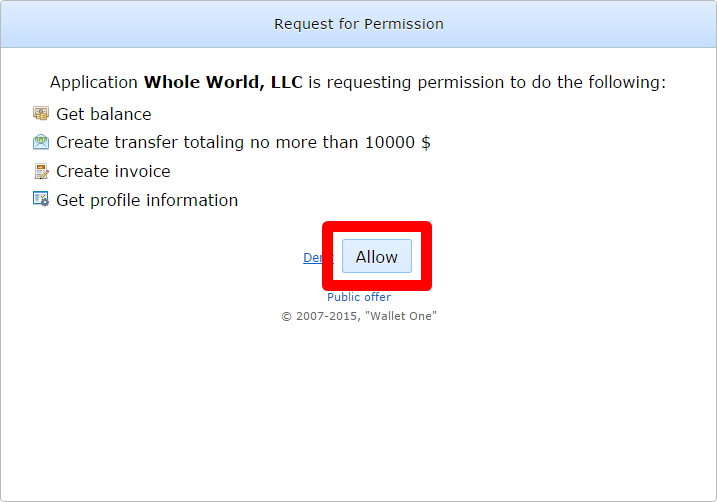 Please note!
СBy linking the purse you allow Whole World to make transfers totally amounted to not more than $10 000.
That means that when you reach this limit, you will need to link the purse once again following the same procedure.
In case of successful linking, the System will inform you about it and you will proceed to the step of financial aid payment.
Go to Instruction on Financial Aid Payments >>
| | |
| --- | --- |
| | Whole World will not have access to your password to the linked WalletOne purse! You are entering your password directly to the protected WalletOne signing-in form (linking form) |
| | |
| --- | --- |
| | Be sure to save (write it down) the number of your purse and password to it to avoid loosing them! If necessary, you can change the password to your purse, it will not affect the linking. |